A Bilingual Immigration Workshop will be held in the WHS auditorium on Saturday, February 11th at 1pm. For more information call Jorge Islas Martinez at 920-397-8942.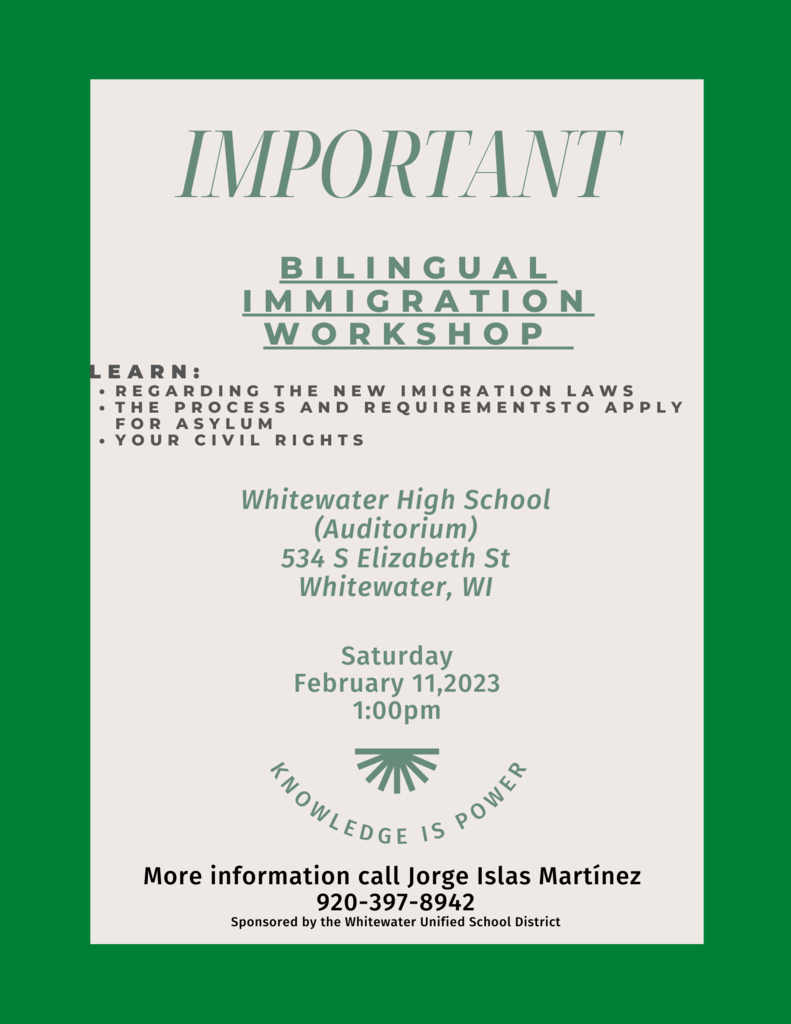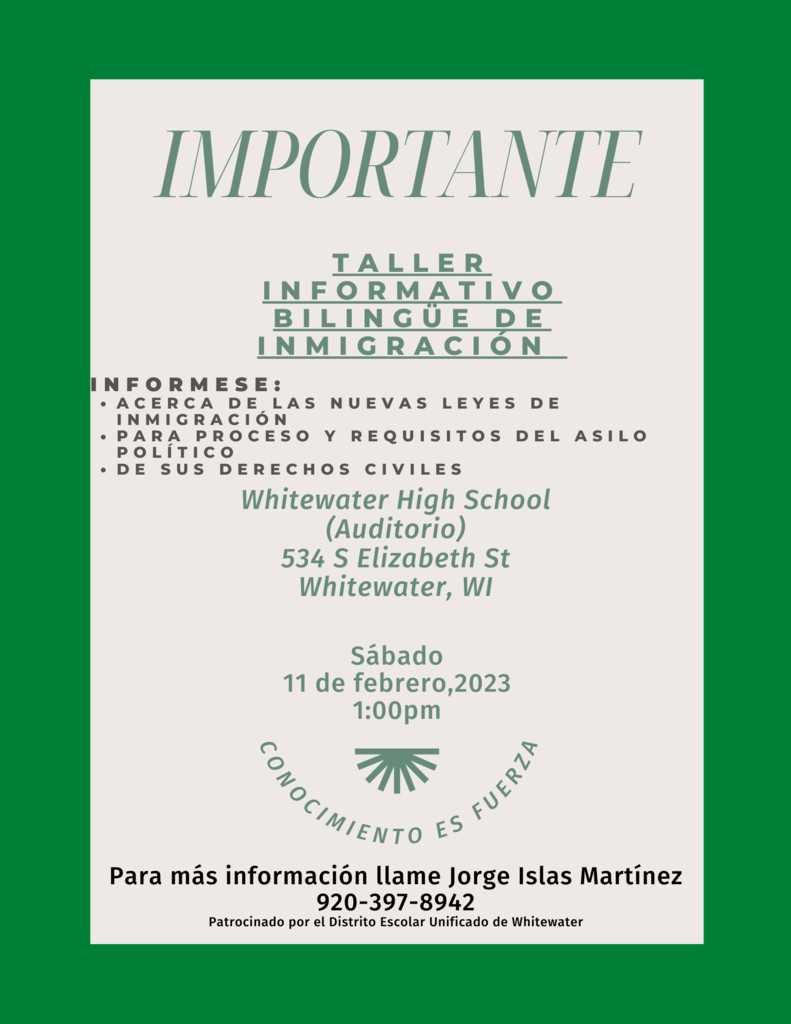 ⏰REMINDER: There is no school for all Whitewater Unified School District students on Thursday and Friday of this week. Our staff will be participating in professional development. Classes will resume Monday, January 30.

We're looking for more players to join the 5th & 6th grade girls' basketball team! ⛹️‍♀️ Practices take place at both Lincoln and Washington on Mondays and Wednesdays, starting on January 16. No sports physical is needed. To register, visit
www.whippetnation.com
.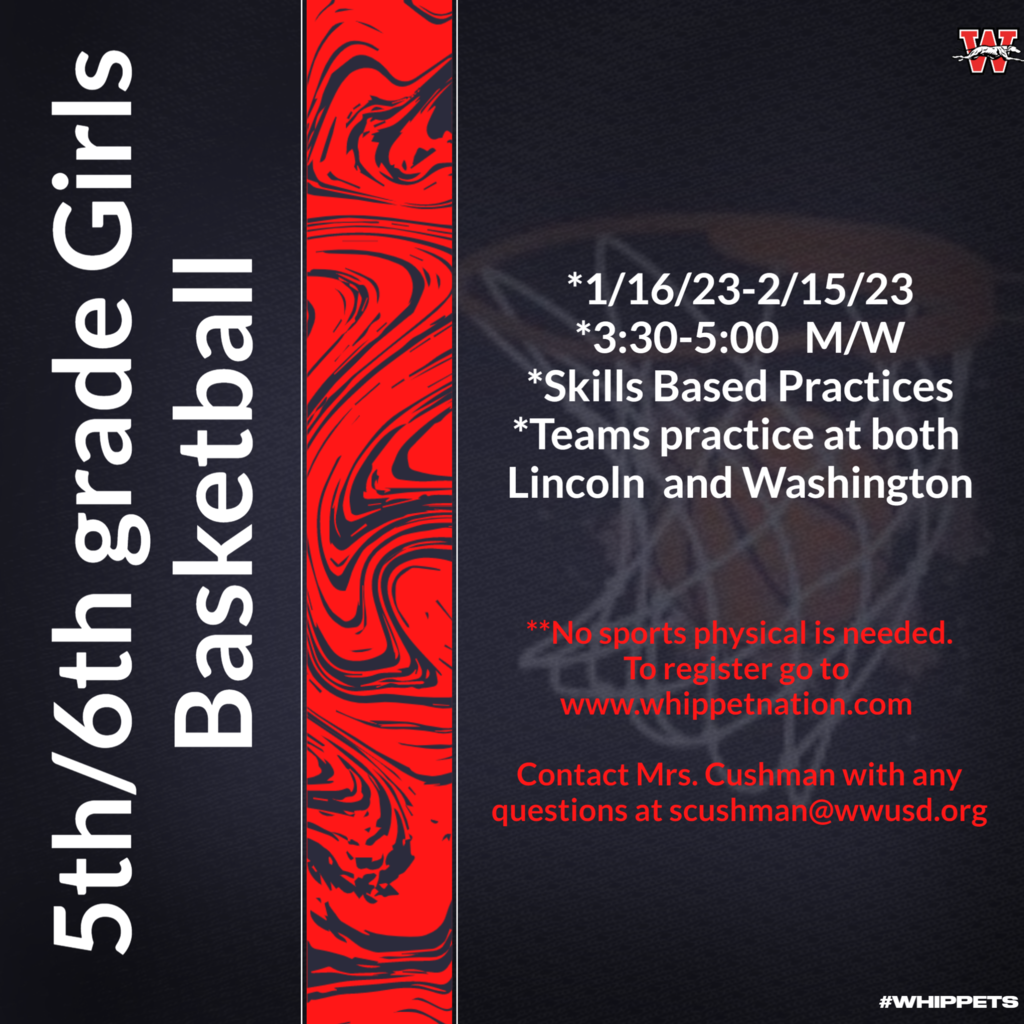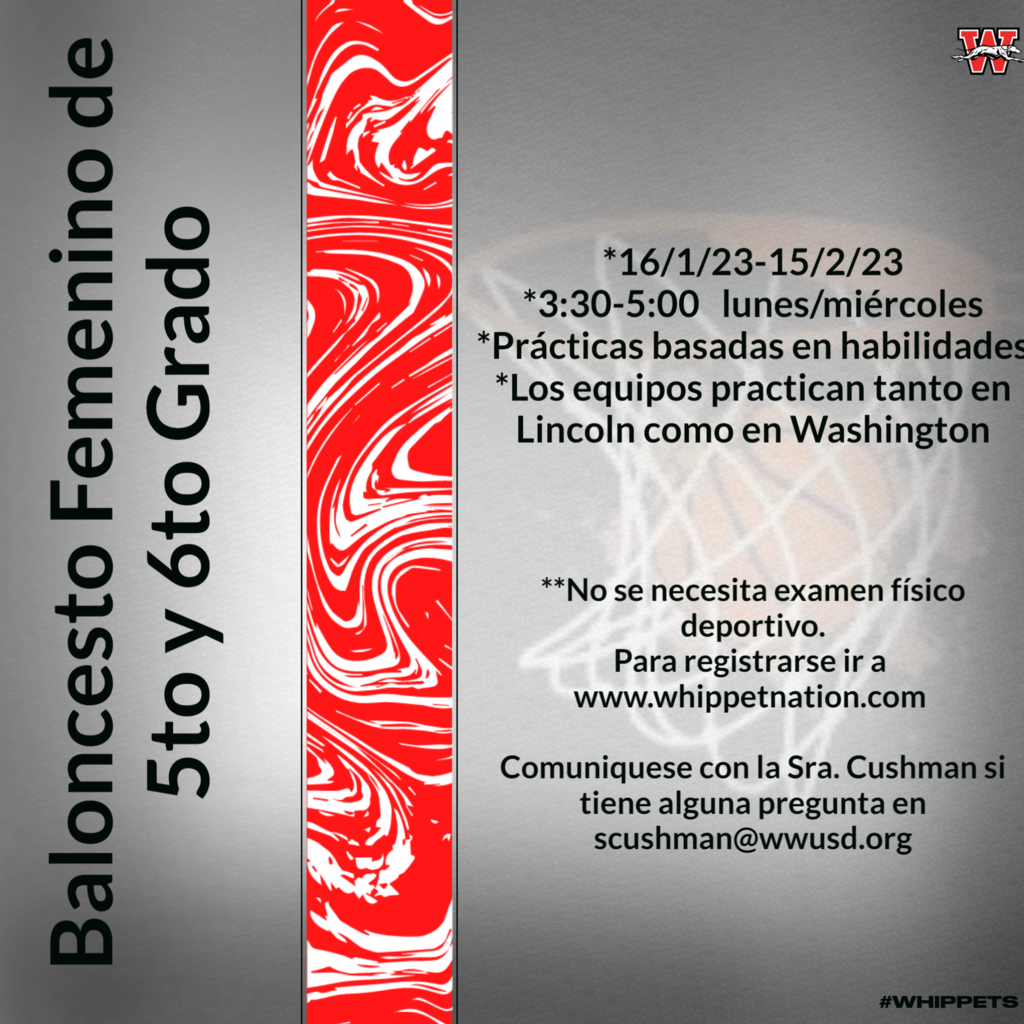 Whitewater Unified School District will be closed on Thursday, December 22, 2022 due to predictions of rapidly dropping temperatures, snow and strong winds (potential blizzard conditions) that will make travel for our students and staff dangerous, throughout the day Thursday. All after-school activities for Thursday are also canceled. We wish our students, staff and community a wonderful winter break, beginning a day early. See you in 2023!

This morning we have been in collaboration with the National Weather Service, our transportation providers, and our streets clearing support. We will be holding school in Whitewater Unified School District. We suggest that you help your students who may be walkers to bring/wear their snow gear for today, as the PM walk home may look very different than the AM. (We are expecting snow mid-day.) For our bus riders, buses are one of the most safe forms of transportation, even in snow, but plan for possible route delays home. We will be watching the weather carefully and will inform you of any changes. Stay warm, Dr. Pate-Hefty

Download the WUSD mobile app today! On the app, students, parents, and community members can read the latest announcements, locate staff information, review upcoming events, and find important documents. The Whitewater app is available to download free from the Apple App Store or the Google Play store by searching for "Whitewater Unified Schools." Click the following link for an introduction video on the app:
https://youtu.be/NZXAlONRMek


Thanksgiving Break starts Wednesday! There is NO SCHOOL for all WUSD students November 23-25 of this week. 🗓️ We hope our students, staff, and families enjoy the holiday. Classes will resume Monday, November 28.

In honor of National Apprenticeship Week, which was last week November 14th-20th, Whitewater High School wishes to congratulate all of our students who have taken steps into their future by participating in Youth Apprenticeships. Youth Apprenticeship (YA) integrates school-based and work-based learning to instruct students in employability and occupational skills defined by Wisconsin industries. WHS has more than doubled participation in YA over the last few school years and we hope to continue growing opportunities for WHS students. Students wishing to learn more about YA should contact Mr. Baron West.

Preliminary election results indicate that voters have approved the operational referendum question for the Whitewater Unified School District. As a result, we will be able to maintain: robust academic and athletic opportunities, student support and mental health services, comprehensive instructional and co-curricular programs, and technology and facilities infrastructure. We are incredibly appreciative of the input and feedback we received throughout this process. Thanks to your engagement, we were able to present a solution that made sense for our entire community. The canvass will be held on Friday, November 11, to certify the results. As always, thank you for your support of WUSD schools and the students we serve!

REMINDER: Half Day of School on Thursday, November 10th (No 4K classes) for WUSD students. Dismissal times are Elementary: Noon; High School: Classes dismiss at 11:33am, lunch, bus dismissal at 12:15pm; and Middle School: 12:30pm. Parent/Teacher Conferences will be held from 1:00pm to 7:30pm on Thursday. No School on Friday, November 11th for WUSD students.

Today, November 8th, the Whitewater community will vote on renewing the operational referendum for the Whitewater Unified School District. The referendum asks voters to continue the funding they previously approved in 2018. There would be no tax increase associated with the referendum. In fact, taxpayers are likely to realize a reduction on their property tax bills, even if the referendum is approved. To learn more about the operational referendum renewal and to browse answers to frequently asked questions, please visit
https://www.wwusd.org/page/referendum
.

REMINDER: There will be no school for all WUSD students on Monday, November 7, for staff professional development. We will see you all again on Tuesday! Also Elementary Parent/Teacher Conferences will be held on Monday from 4:00pm to 7:30pm.

REMINDER: There's NO SCHOOL for all students on Thursday and Friday of this week. We look forward to seeing our students again on Monday, October 31st!

Due to unforeseen circumstances the Bilingual Immigration Workshop scheduled for this Saturday, October 15th has been canceled. More information will be provided in regards to rescheduling the workshop.

REMINDER: Parent-teacher conferences are taking place TODAY at Whitewater Middle School! Meet with your child's teachers from 4:00 to 7:30 p.m. There will also be a FREE Vaccine Clinic for WUSD children 18 years old and under at WMS, at the same time as conferences. No cost or insurance is needed for vaccines, and walk-ins are welcome.
Just a reminder that on Monday, October 10th there will be no school for students as staff has professional development.

Tonight, the Whippets host McFarland for our annual homecoming football game! Kickoff is at 7 p.m. 🏈 We look forward to welcoming our alumni, fans, and community for this annual tradition. Let's go WHS!

Today, we're celebrating World Teachers Day! 👩‍🏫 Words cannot express just how much we appreciate the amazing efforts of our educators. If you have a moment, please take some time to thank a teacher today. Tell them how much they matter to our schools and community!